Spring has sprung, and your ducts and vents need a cleaning!
Ah, spring, the flowers are out, the sun is finally in the sky for more than a couple of hours after work, and the snow is starting to melt. This is usually a time for people to begin their annual cleaning of the house, but did you know that your air ducts need some love too? For many in the Greater Toronto Area, the simple fact is that
spring air duct cleaning
is an essential part of your home or office's spring cleaning and booking an appointment for commercial duct cleaning or residential duct cleaning is as easy as ever! This is why the team at Comfort Clean has decided to dedicate some space on our site for the essential tasks of dryer vent cleaning and air duct cleaning in Toronto and the surrounding area. As duct cleaning specialists, we know our clients are always asking if duct cleaning is necessary. The answer is still yes, and below you will find out more about why duct cleaning is needed, and how it will benefit you and your space.
Four Reasons to Clean Your Air Ducts After Winter
Winter can be a tough time for your ducts, especially if we are dealing with a long and cold winter. The reason for this is simple; the more your furnace has to run, the more dust, debris, and dirt may be running through your system. This is why air duct cleaning in Toronto and the rest of the GTA is so essential, especially in spring. Here are four reasons why you should clean your air ducts in spring, rather than duct cleaning in winter.
A good duct cleaning Mississauga or the rest of the GTA will clean dirt, debris, and dust from your air circulation system before you start to run your air conditioning. Over the winter, your system will gather this debris, and it can be cleaned and removed by a certified duct specialist.
A duct cleaning will allow you to remove any allergens or other issues from your air circulation system before the busy spring season. This is important to ensure that your system is refreshed and will limit the staff hours down due to colds in the warmer months.
A duct cleaning in Richmond Hill and the rest of the GTA will help ease hay fever and other related airborne particles. As these allergens can lay dormant in your system until the weather improves, your system must be adequately cleaned to avoid issues down the road.
A duct cleaning will clean your air ducts and increase the expected life expectancy of both your furnace and air conditioner. Moving clean air will allow your system to flourish and be healthy for years to come. 
The Importance of Duct Cleaning in Spring for Homes
Spring is an excellent time of year, but for those of you that are considering air cleaning services, the team at Comfort Clean knows our way around a duct. We have been doing this for a few years and have come up with a few reasons why it is vital to complete your duct cleaning services in spring. No matter if you are looking for duct cleaning in Vaughan, or around the corner in Milton, the team at Comfort Clean will be able to provide you with the services you need. One of the biggest reasons that you should complete your duct cleaning in spring is to set your air system up for success. Spring is a beautiful time of year, but it also brings pollen, spores, and other allergens that can run wild. For those of you that struggle with allergens, having a clean air system is a relief, and could even be a lifesaver. Spring is the perfect time to clean out your system and ensure that you get a
Comfort Clean duct cleaning service
that relieves your senses. Secondly, springtime is an excellent time to complete duct cleaning because it is a part of your overall spring cleaning. Your air system is part of the reason that dust and dirt are spread around the house, and cleaning your home, to only have to reclean your home due to your air conditioning turning on seems like backward thinking. This is why spring is a great time to complete your duct cleaning as it will help with your spring cleaning! It is a win-win, and especially considering we can complete this job before you start your annual cleaning for optimal results! Finally, if you are looking to spruce up your home, and enjoy the very best spring has to offer, a duct cleaning service is a great way to ensure your home is in good shape. Not only will a duct cleaning provide you with allergen relief and clean house, but it will also make you feel better. Breathing fresh air is something that we can all relish, and no matter where you are in the GTA, you can enjoy the fresh air. A clean air circulation system will do that and more, and that is something that everyone can agree with!
Benefits of Getting Your Air Ducts Cleaned This Spring for Businesses
There are several great
benefits of completing air duct cleaning
in the spring, and no matter if you are a home or business, you will enjoy an air duct cleaning service. Here are just a few of the benefits that we have seen over the years in our vent and duct cleaning services.
Fresh air can lead to sales
Fresh air is something that we always want, but did you know that fresh air can lead to more sales? It has been proven that fresh air is key to ensuring that your clients are awake and are more willing to spend money. It is part of the reason that major casinos in Las Vegas and across the world have been pumping in fresh air for years. A clean air duct is an easy way to ensure that fresh air is always moving for your clients.
Clean air ducts can help limit staff hours missed
One of the leading causes of missed days at work is due to allergies or illness. An easy way to avoid these issues in the workplace is to complete air duct cleaning services regularly, especially in spring. Regular air duct cleanings will help limit allergens and dirt, which will lead to a healthier work environment.
Spring duct cleaning can help limit air circulation system costs
Companies are always running to maximize profit, and one of the places that you can avoid spending thousands of dollars is your air circulation system if you maintain it. Part of that maintenance is to complete regular air duct cleaning, as it helps to limit dust and debris in the furnace and air conditioning system. No matter if you are a larger company, or a smaller one, spring duct cleaning is a great way to avoid a costly HVAC system replacement that will cut into your bottom line.
What about dryer vent cleaning, what are the benefits of that?
Dryer vent cleaning is an essential part of maintaining the health of your overall space. Whether you are a commercial or residential client,
annual dryer duct cleaning in Toronto
and the surrounding area needs to be done by a professional. Our dryer vent cleaning in Toronto and the rest of the GTA focuses on getting every last bit of dirt out of the system the first time. Here are some of the benefits of utilizing a dryer cleaning service from a professional organization like Comfort Clean.
Dryer duct cleaning will help your equipment
As dryers are running throughout the year, additional strain on their airflow system can result in unnecessary stress. This stress can lead to the early failure of the equipment, and that is something that we all are looking to avoid. A simple dryer duct cleaning can help eliminate that strain and will ensure that your dryer is venting the air properly, without any additional risk of failure.
Dryer vent cleaning will eliminate a fire risk
As dryers are hot places, the fire risk is already increased. This is
why vent cleaning is essential
to help clear out any pieces of lint or debris that may be stuck in the outflow of the dryer. These pieces of lint continue to dry out with every cycle, and after some time, can quickly light with a spark. To eliminate this risk, you should look to have your vent cleaned regularly, as a clean dryer vent will have practically no fire risk.
A more efficient dryer
Vent cleaning is an easy way to help you with your electrical bills, and help you make your home a little greener. Dryer vents are supposed to be able to move air with ease to the outside environment, and if there are obstructions, it is not as easy. This means that your dryer will be less efficient, which means you will have to run more dryer cycles to dry your clothes and linens completely. Plus, a more efficient dryer means you will enjoy cheaper electricity bills, which will lead to more money in your pocket. A real win-win, especially when you get more money in your pocket from a routine service like dryer cleaning!
How to Avoid Duct Cleaning Scams
As one of the good guys in the market, we hate the fact that one of the current scams that are going around the greater Toronto area is a scam in our industry. However, there are some great ways to know how to avoid the duct cleaning scam! First and foremost, when it comes to air duct cleaning scams, you are going to be chatting to someone who does not know the service they are offering. If you are looking for air duct cleaning, ask some questions. Including what type of equipment they use on-site and if you could have a few references from their past job. This way, before you commit to an appointment, you can take a look at the company online, talk to some ex-clients and confirm your appointment with a real company. Secondly, when you are
dealing with air duct cleaning scam
calls, you can watch out for obvious red flags. There are no reputable air duct cleaners in the Toronto region that will take a cash upfront approach to their business. As well, no decent air duct cleaners will offer well below the market value of the service, we compare prices too, and there is no sense in cutting costs to the extreme. If the price looks too good to be true, it probably is. Third, you should only trust accredited companies to complete your air duct cleaning in the Toronto region like Comfort Clean. All of our technicians are fully certified and have the experience in the industry to complete even the toughest calls, and thus we are proud to flaunt this! Plus, all of our technicians are fully bondable, and we have general liability insurance, and those who are completing this scam will not care to ensure both of these are in place.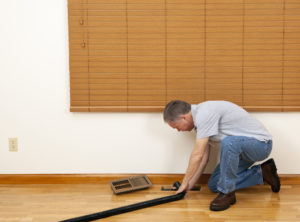 Finally, when it comes to avoiding duct cleaning scams, you have to use your intuition. If the hair at the back of your neck is standing up, or the company is trying to rush you, it might be time to take a timeout. Any reputable company will do a callback or provide a time to give you a quote, and scammers will be trying to rush you into a decision. So, if you are looking for quality air duct cleaning, slam the phone on the scammers and trust the experts at Comfort Clean! If you are looking for duct cleaning, or dryer vent cleaning services, the team at Comfort Clean is here to help. We have some of the
most modern duct cleaning equipment
in the industry and will be able to provide top-notch service at a fraction of the price of the other guys. We can offer both commercial and home duct cleaning services across the entire Greater Toronto Area.
Call us today
and get your very own free duct cleaning quote from one of our experts on the phone. It is that simple, and here at Comfort Clean, we like it that way.